Ten years from now, they'll surely be saying, "Web 2.0 was only the beginning."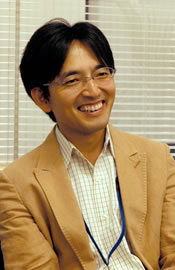 The first money-making job I had was in February 1996, creating the website for the 200-page pamphlet of an Osaka film event.
Me and Mr. Kimura, the current vice president of our company, burned the midnight oil for one month straight to get the job done. We were paid a total of ¥50,000.
The sheer volume of the job meant that there was no time for other part-time work. Looking back with the wisdom of age, there was no way we should have been able to get by on that little of money. It wasn't even enough to cover a month's rent on the studio apartment I was living in at the time.
That said, I started this business in 1995 believing in the potential of the internet field. The pamphlet website job was our first order after nearly a year of zero income and constant anxiety.
Because of this, making money in the internet field at that time – regardless of how much it was – had two major meanings for me.
One was that even a person like me, who couldn't even pay his taxes, now had income and was officially not unemployed.
The second was verification that the internet would be both necessary for companies, and a great return on investment.
It's probably silly to feel like this after making just ¥50,000, but when I opened the envelope with our pay, I was overjoyed. What was in that envelope was not just money, but a ray of light shining from my future. Even now I vividly remember the sheer happiness I felt.
It's been a decade since then. In that time the internet has, with unbelievable speed, become an indispensable part of society.
Of course, this means that I was able to make a living off the internet after all. The ray of light I saw on that day was real.
I'm very grateful for the fact that, currently, the majority of our work is done for brands and companies known to everyone. It's very encouraging and makes me quite proud to know that our websites reach a great deal of people and provide a part of society's infrastructure.
I believe that the internet will continue to grow more and more significant.
When we look back ten years from now in 2016, they'll surely be saying, "Come to think of it, Web 2.0 was only the beginning."
What a waste it would be if the fruit of our labors was simply the fact that our websites are used by a great deal of people.
We work with the goal of making people feel that our services have somehow made the world a better place. The ideas borne from our work expand the potential of the internet, and we hope to continue doing what we do far into the future.
Masaki Kai, CEO, May 2006
Corporate Philosophy
18 Principles:
01. Show concern for conservation of the environment.
02. Uphold the law and regulations, and maintain a sense of duty.
03. Remain true to societal conventions while maintaining an unconventional company.
04. Do not give special benefits based on status or job title.
05. Put effort into learning languages other than Japanese for global communication.
06. Take our customers' success as our own success.
07. Encourage ideas and creativity.
08. Spare no effort to make use of your personal talents.
09. Don't avoid doing work you're not confident to tackle; rather, take it as an opportunity to grow.
10. Maintain professionalism at all times.
11. Encourage reform to provide the best possible service.
12. Keep a perspective of fostering junior employees and friendships, so that all company members can continue to grow.
13. Work as a team to overcome problems one cannot do by themselves.
14. Employees should keep the well-being of their families in mind, too.
15. No matter if you're speaking to a superior or a customer, speak your mind with conviction.
16. Don't limit yourself to a subjective view; Plan, Do, Check and Act (PDCA).
17. Foster business sense among all employees through their learning corporate accounting.
18. Pursue profit, as it is the fuel for accomplishing our mission.
PICK UP